Disability does not mean inability
All thanks to this designer whose focus is on the disabled sect of the society, the first of its kind; Asiya for proving how true the above-mentioned saying is through her work and of course, endless passion. dedication and effort! Merak had the chance to sit down with this amazing, multi-talented individual in order to have a clear conversation regarding the work she does – designing for the disabled.
Asiya Rafiq was born in Kashmir, India and raised in the United Arab Emirates. Something to be taken a clear note of is the fact about how she was raised by a very strong, single mother, for which she will always be grateful, she says. Asiya Rafiq completed her graduation in the field of Psychology and Sociology after-which she moved back to her hometown in India to continue with her higher studies. Since from a very young age Asiya never wanted to work under anyone, she followed the right path to achieve what she wanted and eventually set up her own Advertising agency in Delhi and Mumbai, India.
What made you come up with the concept of designing for the disabled people?
Since I loved volunteering in humanity related events, I got involved in a lot of different types of events back then. Hence last year I volunteered for the Special Olympics World Games 2019 which involved me helping the people of great determination. One of the most memorable instances that took place during my volunteering period there was when a young man wanted to go for prayers but had great difficulty in tying his shoelaces. He finally asked me to help him with it and I obliged. That incident opened my eyes and helped me realise how little things like being unable to tie shoe-laces can go a long way towards making someone feel so unable, helpless and frustrated. I wanted to help people like him, and do something that rewards me best as a result of which I decided to put my job at the advertising agency on a hold and applied for an Applied Behavioural course in Dubai which aimed to help people become efficient educators and support those with developmental disabilities. This is what helped me come up with such a beautiful concept of doing something beneficial for the disabled people.
Have you ever collaborated with other designers? Please tell us a little about it.
Collaboration is the key to success in any business which also makes the processes of businesses more efficient. Unfortunately, I haven't done it yet, but I will do it in the near future if I meet designers from other industries who welcome my idea as well as suggest new other ways to provide the best facilities for the people of determination.
What is one of your favourite design or clothing lines you have designed so far?
My first ever design – the Wheelchair easy access full length outer garment for women called "Adaptive Abaya" which was worn by my very first wheelchair bound client, is one of my favourite designs so far.
Could you explain about the how's and when's of a few of your designs, please?
My designs are not limited only to people of determination. Any woman can wear them since they are quite fashionable and easy to wear for all body types. It's just that through some additional technical idea, they go a long way towards helping people who struggle with clothing frustration day in and day out. I have clients in wheelchairs who constantly complain about needing help from their caregivers just to help them dress. So, to make life a little easier for them, I designed wheelchair-trousers with easy opening front zippers and elastic waist with increased comfort due to easier dressing. These pants are also adjustable and of non-restrict closure. I have also designed other fashionable shirts and long dresses with magnetic buttons, zippers and Velcro for different people with different disabilities. I am working on more for children as well with autism and sensory challenges.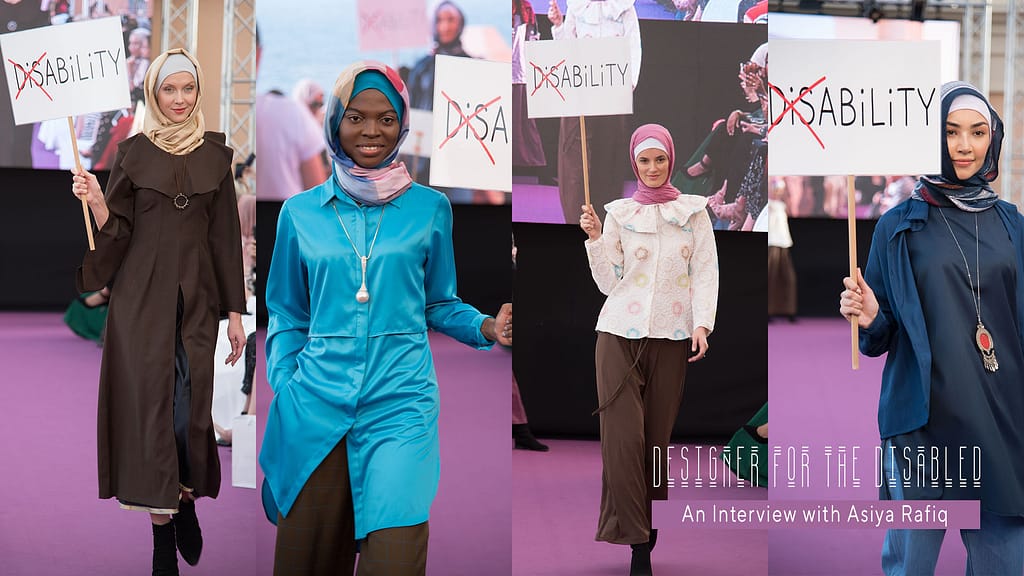 How many countries are your clothing lines available in?
My clothing line is taking baby steps at the moment. It was a recent and soft launch in Dubai last year. I am looking forward to creating a niche brand for people of determination with everything for them under one roof, fulfilling all their needs not only in terms of clothing, but footwear, accessories and so on. Until now, I am working remotely in Abu Dhabi, but I am also having serious talks with designers in other countries regarding creating a niche brand. God willing, I will be successfully putting all my efforts into making my dream a reality!
What are some challenges about being a designer for the disabled?
People differ, and have different preferences when it comes to clothing and fashion. Some have very specific requirements with clothes being tailored for them according to their needs and preferences. For instance, Autistic children have sensory integration issues like some kids don't like the tags in the clothes which constantly bothers them, some have a liking for a particular texture of cloth. Hence, every individual, disabled or not, wants to look good and presentable. Making them look presentable with clothes that are easily usable for them is where I am quite challenged being a designer.
How do you think the fashion industry today can improve? What are some of your ideas?
The world of fashion has truly grown by leaps and bounds over the last few decades. From sustainable fashion to breastfeeding friendly labels and plus size brands, the industry is constantly being revolutionised to be more kind and even more inclusive of its audience. However, there is a certain sector that often gets left behind the glamorous world of fashion – people of determination. They seldom have brands that cater to them and are forced to fully rely on clothes that may hinder them and their talents. Besides my product designs, I also get invited to colleges/ universities to meet various students of fashion and technology. I have added a program in my designing project. It is to provide more information about adaptive clothing to the next generation of designers called "Mission Make Style Accessible" simultaneously to raise awareness about disability fashion. The aim is to make budding designers aware of the difficulties that people of determination face in their daily lives. So that they can also choose to become designers for disabilities or at least include them in their designs. I need more designers from this fashion industry to make regular visits to schools and give them a chance to merge with the mainstream. It is our duty as designers to identify their capabilities and work with them for their sustainable future. These are my only suggestions for the fashion industry to improve and develop in the near future.
---
Success this, Success that. For Asiya, Success is nothing to do with materialistic things or money, but to make this world a better place by being one of those courteous helping hands who serve without any other expectations, which is why she decided to design for the disabled, to serve them happiness by including them in the ever-growing fashion industry. Currently she only designs for women, but god-willing, Asiya is looking forward to expanding her clothing line and including men with different physical and cognitive disorders as well.
Time will tell and we will watch with interest how Asiya puts her dedication and dreams into action in the near future. Thank you for your time, Ms Asiya. Best wishes for you and your dreams fromTeam Merak.